Posted by Michelle on Jan 25, 2008 in Hayley, Jeff, Michelle
Being silly on the couch with Hayley's camera.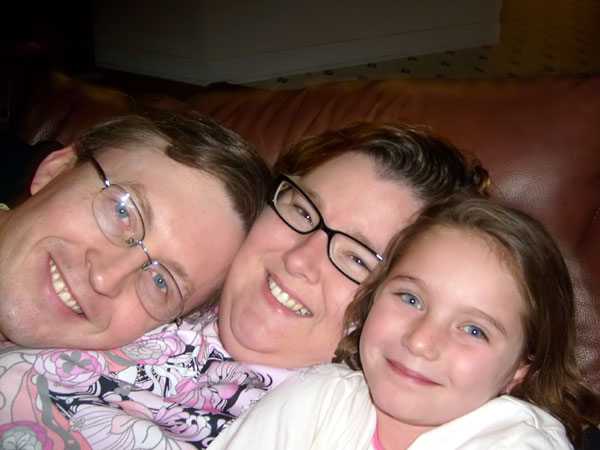 Posted by Michelle on Jan 23, 2008 in Hayley, Michelle
I have so many more Baltimore photos to post but I had to post these three cool ones from Charm City Cakes. Charm City Cakes is the base for one of our favorite TV shows, Ace of Cakes on the Food Network. Hayley was dying to go visit it – you can't get in but we took some fun photos outside.
Please ignore that I need my highlights done asap. I canceled my appointment when the chaos over Hayley's finger happened.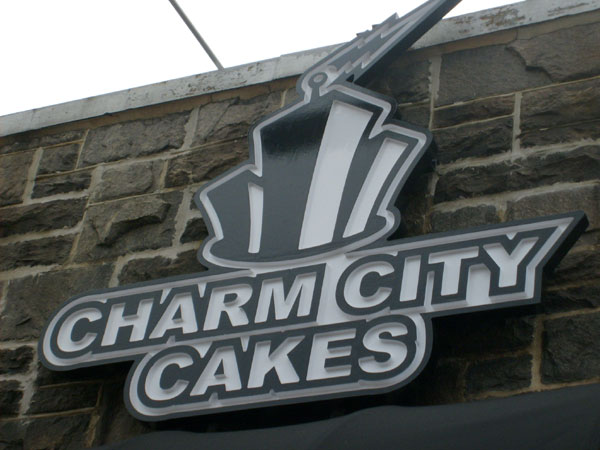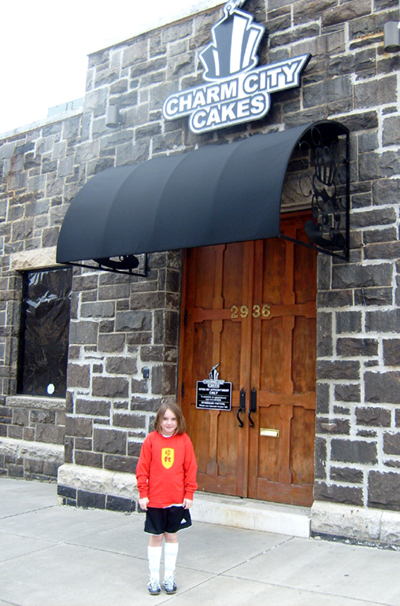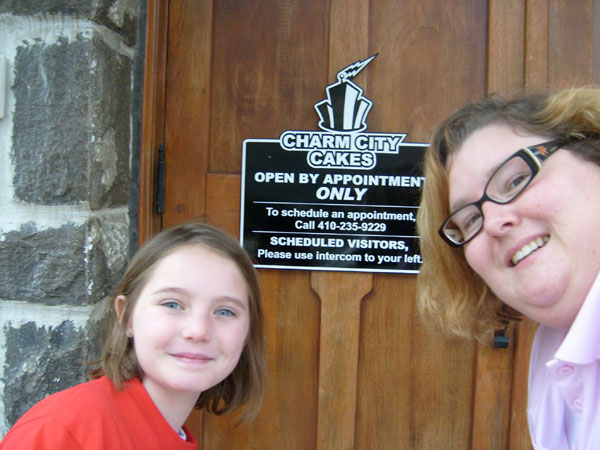 Humorously, Hayley was convinced that every hobo, smoking person and random guy going into a bar all worked at Charm City – I guess b/c Duff and the bunch are a bit alt/rocker/punk/grunge looking. I finally just let her think they might in lieu of explaining what potentially was some unsavory characters!
Posted by Michelle on Jan 10, 2008 in Hayley
Hayley has this aching finger that got worse and stiffer over the past few days. I thought it was broken worst case, she's not in much pain at all. It just was nagging and had swelled up more, and gotten stiff in the past 24 hours – I decided might as well get it looked at.
We went to her regular doc, who is a family practice but also is sports med group. After x-rays and exam, they tell me it is not broken. Her doctor thought there was an infection of the flexor tendon sheath in the fourth metacarpal and it is a "fairly serious" problem (flexor tenosynovitis) that may require surgery that night.
Our doctor called an ortho group she uses for hands. Together they set up a plan for us go to the ER immediately and the hand ortho specialist will meet us there as soon as she is settled to make the final call.
I'm not going to hash out the six hours debacle in the ER but the Dr. Post decides yes there is an infection but thinks that most of the pain is from a nodule on her flexor tendon which has taken away most of her range of motion. He said he wasn't going to surgically open her hand up that night but wanted to run antibiotics in IV. He would see her Friday morning at his practice and then decide if he wanted to do surgery that afternoon or wait a week until the infection is gone and really see overall what is going on.
Post is a board certified orthopedist with another board certification in hand/upper extremities surgery plus extra work in hand and microsurgery so we feel very strongly that we've got the right man on the case. It doesn't get much better than this guy.
They put her on IV for awhile and now that everyone knows no surgery that night, we are all punchy and Hayley makes us take photos of her IV – I kid you not, she wanted documentation of it. At least she could eat and drink finally, she'd been starving and we left about 1:30.
She is in no pain – not on any pain meds, just antibiotics. We'll know more later but I had to post the photos from the ER since she insisted on the IV photos.
Friday update: In a crazy turn of events, Hayley's finger popped up straight this morning as we were going to the hand specialist. Annabelle licked it and it it loosed up, don't ask me how!!!
The doctor thinks it is a small benign fibroid that got stuck and wants to just wait and see. He said to take her off the antibiotics and cleared us to go to Maryland for her soccer tournament.
The FINGER!!!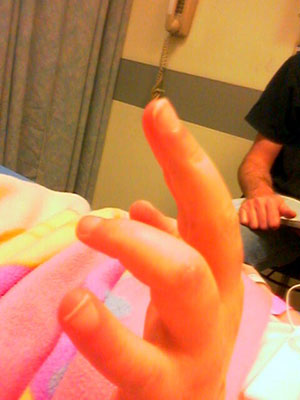 The FINGER xray!!!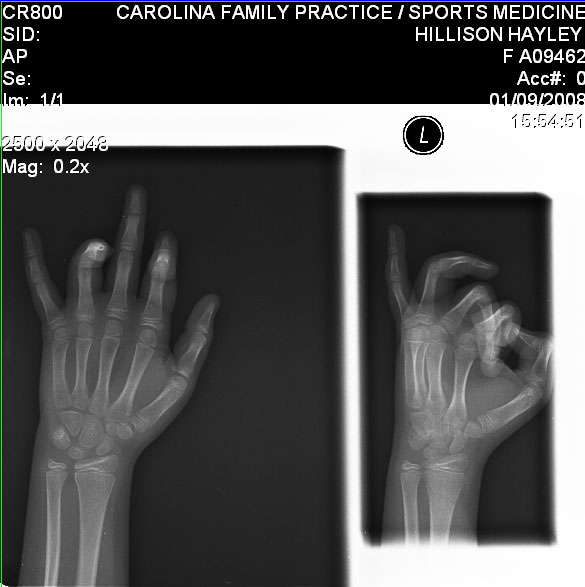 Hey look, I got an IV – woohoo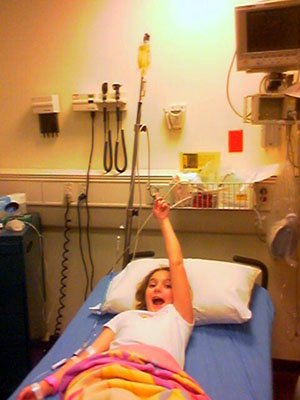 Let me try a fake sad look for sympathy over the IV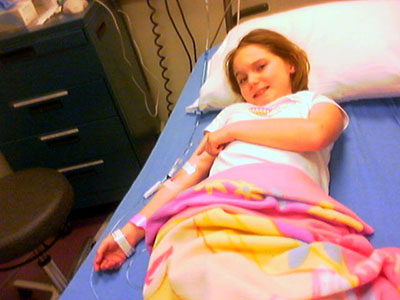 30 secs later – as you can see just fine, totally faking the one above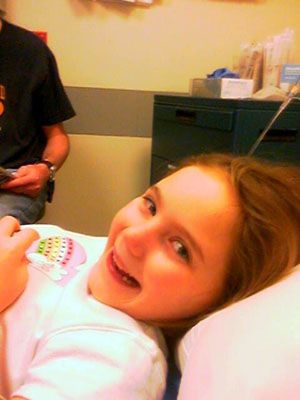 I got my Ipod and DS, I can stay forever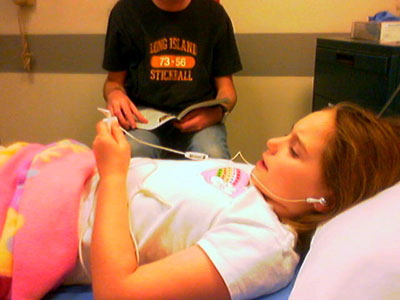 tired dad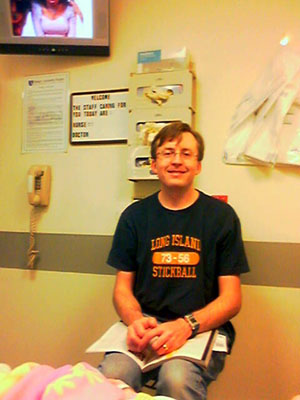 tired mom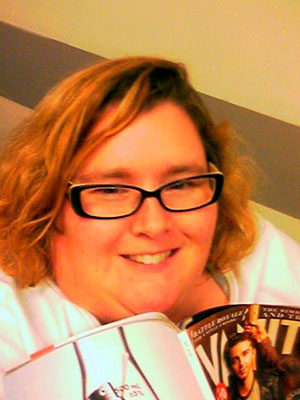 March update – the bump came back, she had surgery but it wasn't successful but it isn't causing anymore problems so we are in a wait and see mode after consulting with a ton of experts at UNC.